We offer both spray tans and sunbeds, for that golden glow!
Need to be tanned for that event, night out, wedding or just because? A spray tan is no longer a luxury... it's a must! In 15-minutes you can have a gorgeous natural-looking tan lasting 7 days. As they say "fake it until you make it!"
Thinking or something a little more longer lasting? Sunbeds are great (dependant on your skin type) if you have a bit more time and want a natural, longer lasting tan.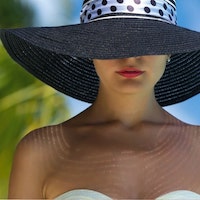 Spray Tans
Let's face it - the biggest fear we all have before a spray tan is "WILL I GO ORANGE OR PATCHY!??" - and at Body Liqueur the answer is ABSOLUTELY NOT! We've tried every spray tan solution under the sun in recent years. After much trial and error - we stick with B.Gorgeous products - because they simply are a superior natural-looking, spray tan!
Read our Before / After Care for Spray Tans
Just the legs or as requested.
Sunbeds
Many of our clients like to get a pre-tan as natural protection to sun exposure, so that when summer arrives - or when a winter holiday in the islands is planned - they already have a healthy glow and a natural slight resilience to the sun.
Our modern Luxura X10 sunbed are designed to allow clients complete control with adjustable cooling, air con, illuminated controls, surround-sound and regularly-replaced lamps. All new clients are offered a custom tanning regime to suit their skin. We use the latest UVA & UVB technology (just like the sun) in our lamps, allowing shorter tanning times and faster results, without burning.
Important Notes
• We do not allow under 18's to use a sunbed (this is the law).
• Protective eyewear must be worn during sunbed sessions.
• Clients may only tan once every 2 days
• If you have never tanned with us before, your first session will start with a consultation - this involves completing a skin analysis (working out your skin type and tanning regime to suit you) with our staff.
• As tanning is a process, new clients cannot begin with maximum minutes so please do not expect this. Tanning the right way involves gradual incremental exposure which we will work out with you.
Learn more about sunbed tanning
Concession | 5 Sessions
$65
Concession | 10 Sessions
$120
Concession | 15 Sessions
$150