The eyebrow and the eyelash... can you name a more iconic duo?
If you are looking for cookie cutter brows and way-too-dark brow tints... firstly WHY? Secondly, look elsewhere! We specialise in the art of the perfect brow and lash. We like to think we are pretty darned good at them too! Just ask our clients.
We use a combination of hot wax and/or tweezing for all eyebrow shaping, plus a soothing tea-tree lotion to eliminate redness. After your service, we will give you the option of brow powder to conceal any redness and/or retouch your makeup.
Our lash artistry is renowned for its attention to detail. We can either work with what you've got (a lash tint or lift) or "fake it 'til you make it" with lash extensions!
Brow Basics
Shape or tidy, using a combination of hot wax and tweezing, followed by a soothing cream.
A brow shape, tint and lash tint.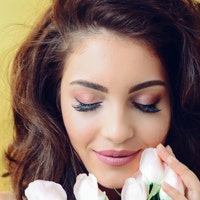 Lash It Up!
Colour the lashes safely using a vegetable-based dye that lasts around 4 weeks.
A lash lift lash perm treatment is an instant 'root lift' and creates a soft curl almost lifting the lashes upwards creating the illusion of lash lengthening to your natural lashes. Results can be expected to last for 6-8 weeks, depending on the natural life cycle of your lashes.

This treatment is hugely popular with clients who don't like the maintenance factor of lash extensions, but who still want lashes that look amazingly long and have strong curvature.
A lash lift combined with a lash tint - the ultimate way to add the illusion of length and volume. We strongly reccommend adding a tint to your lash lift unless your lashes are already dark!
Lash Extensions | Classic
from $90
Like hair extensions, but for your lashes! One individual lash is adhered to each of your natural lashes to add volume and length. Lasts 2-4 weeks. Classic lashes can be natural, full or glam. Unsure? Ask us or check out
examples bellow
.
Lash Extensions | Russian Volume/Hybrid
from $110
Russian volume lashes also known as 3D volume is the latest trend to take the eyelash extension industry by storm. 3D means 3 lashes are placed onto one natural lash for extra volume.
Lash Extensions | Removal
$25
Lash Extensions | Infills
from $70
Top-up, required every 2-4 weeks to keep your lashes lush!